Focus FIlm
Counting down our favourite films of 2002
2002: The year of the sequels! Twenty years ago, Harry Potter explored the Chamber of Secrets, Frodo and Sam arrived at Mordor and Yoda went head to head with Count Dooku. But amongst the franchises it was also a year of dramatic nuance with films like City Of God and Catch me if you Can finding exciting ways to tell their stories. We've picked the top 5 of the year that have stuck with us two decades later.
"A much more nostalgic year of film than I expected it to be" - Ellis
5. Phone Booth
Directed by Joel Schumacher
"You can't understand the pain of betrayal until you've been betrayed."
It's a bit like the 90's movie Speed, but with Colin Farrell in a tiny phone booth. In a sense that it's high stakes, high tensity and high drama from start to finish. What's not to like?!
It was filmed in just ten days and the events of the film all happen in real time. This definitely adds to the viewer's anxiety as they feel trapped in there with Stu (Farrell), and it's Farrell's performance of him that keeps us hooked.
4. Lilo & Stitch
Directed by Chris Sanders, Dean DeBlois
"Ohana means family. Family means nobody gets left behind or forgotten."
A top tier Disney film that often gets overlooked, this combines the family Disney style with a story about sisterhood, surfing, sci-fi aliens and an Elvis soundtrack. Nani and Lilo's sisterly relationship is so strong and loving that you can't help but think it perhaps paved the way for films like Frozen and its sequel. Stitch is an icon, the animation is bliss, and the film just radiates good vibes.
3. City of God
Directed by Fernando Meirelles
"The sun is for everyone, the beach is for those who deserve it."
Cidade de Deus is a spellbinding look at the real Rio, told in a Scorsese style of storytelling, detailing a large proportion of a young man's life full of violence and enlightenment.
It's painful to watch at times, but it always looks stunning. It's well written, superbly directed, and the cast of youngsters are fantastic. This balances style and substance expertly in a way that not many others have been able to do.
2. Catch me if you can
Directed by Steven Spielberg
"You're gonna have to catch me first."
The opening credits sequence tells you that this film is different. It's stylised and super suave, with Spielberg doing something a little differently and proving he really can do anything.
The dynamic between Tom Hanks and Leonardo DiCaprio makes this film the captivating piece of cinema that it is. You get the impression that they really like eachother, for they've been the most exciting parts of one another's life, which builds up to a dramatic conclusion.
1. Lord of the Rings: The Two Towers
Directed by Peter Jackson
"All our hopes now lie with two little Hobbits."
It's all about Gollum and the Ents in this one. After the incredible story and world-building of The Fellowship of the Ring, its sequel isn't afraid to slow things down whilst expanding the world and the greater lore (of the rings).
Samwise is the hero, and anyone who says otherwise is wrong, and here we see him step up when Frodo most needs him. Also, we'll say it again because he's so darn good...Gollum.
Worthy Contenders
Films that came close, but for whatever reason, didn't quite make the cut
The Pianist Respect to Adrien Brody's hand twin.
Gangs of New York Some questionable accents made up for by some outstanding scenes.
Minority Report Another Spielberg 00's films that proves the director can do anything!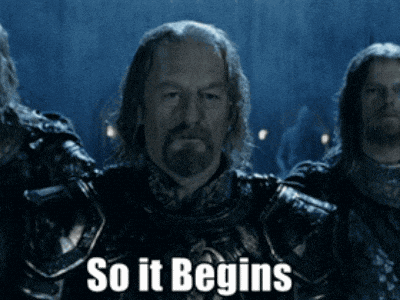 Lord of the Rings: The Two Towers available now on NowTV